Aluminum Sand Casting
Manufacturer for Custom
Aluminum Sand Casting Parts
We have served as a premier aluminum sand casting manufacturer for 42 years. Our roots are in Wabash, Indiana, but our reputation as an aluminum sand casting manufacturer, combined with our wide range of capabilities has allowed us to earn the business of clients around the world. This diversified customer base has led to the development of more efficient and effective solutions for a variety of industries and end uses.
Our aluminum sand casting parts are top-of-the-line largely because of the great emphasis we place on building and maintaining close, genuine relationships with our clients. We seek to gain a deeper understanding of their goals to provide an optimal collaborative experience, because delivering parts to specification requires a complete understanding of your vision. So, delivering you precision parts on time and on budget is not just a possibility, but an expectation.
Wabash Castings as featured in Manufacturing Marvels.
Aluminum Sand Casting Success Stories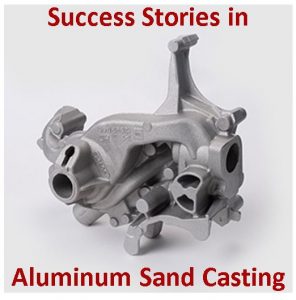 Aluminum Sand Castings
Problem Solved for
Tier 1 Supplier and its
OEM Customer
Tier 1 Supplier Looks for a Green Sand Aluminum Casting Manufacturer
One of our customers needed to resource numerous complex aluminum clutch housings as their existing supplier was exiting the business. These aluminum sand castings were very complex. As a result, other potential foundries backed away from the opportunity. Wabash was approached and happily took on the task to quote these parts that in time lead to the program award.
There were multiple challenges with these aluminum housings including their size and potential for warpage and porosity. Without a qualified manufacturer for these castings, the OEM was facing a line down situation, and this was not an acceptable position.
Wabash collaborated with our Tier 1 customer and the OEM on the design changes needed to manufacturer a good sound casting and was awarded the project.
Meeting the End Customer's Aluminum Sand Casting Needs
Wabash was awarded this extensive project due to the foundry being able to produce the complex parts and manufacture them without warpage. The Tier 1 customer also wanted a domestic aluminum foundry that was located within close proximity of its manufacturing plant for faster delivery and Wabash fit all of these needs. By meeting the needs of our customer and their customer, Wabash was able to solve the problems and help its customer from shutting down and prevented delays on this long running project. Problem Solved!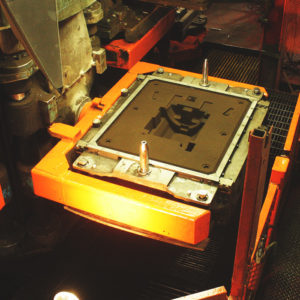 Aluminum Sand Casting Supplier / Manufacturer, Teams Up with Tier 1
Customer to Support
OEM Customer & Wins Big!
A Tier 1 customer came to Wabash Castings needing an aluminum sand cast manufacturing partner to support their OEM customer with a short-term production of a European application oil pan. The current oil pan design was failing in the field and volume replacement was required by the OEM. A new oil pan design to eliminate the failure mode and new tooling was necessary. The European oil pan supplier was unable to meet the launch timing to fulfill the engine build and immediately needed volume requirements. The OEM customer needed a short-term solution to aid in the production of the oil pans until the overseas supplier came online with the newly designed oil pan. Wabash Castings and its Tier 1 customer became the OEM's short-term solution. Engineering and Quality teams worked with the OEM customer in the design and build of new tooling to support the needs of the OEM and its customers.
Normal tooling lead time for a program like this is 22 – 27 weeks; Wabash and its Tier 1 customer were able to build tooling in six short weeks. Upon completion of the casting tooling, Wabash was able to run first sample parts and gain PPAP approval within two weeks. Production was approved quickly by the OEM and parts began shipping to Europe. Because the European supplier took longer than expected, this resulted in additional sales for Wabash and the Tier 1 as they were directed to keep producing parts until such time the European supplier could complete their PPAP approval and launch the new program. Due to the efforts of both the Tier 1 and Wabash Castings, the tight timeline needed to aid the OEM was achieved without one missed deliverable. The Tier 1 and Wabash teams continued producing beyond what was originally awarded until the European supplier was up and running.
The Results: Win! Win! Win!
Because Wabash castings and its Tier 1 customer partnered so well to support the needs of the OEM customer, the companies have been awarded full production of a new program launching in Europe, starting in 2021.
Send your questions or comments to: aluminumcastings@wabcast.com